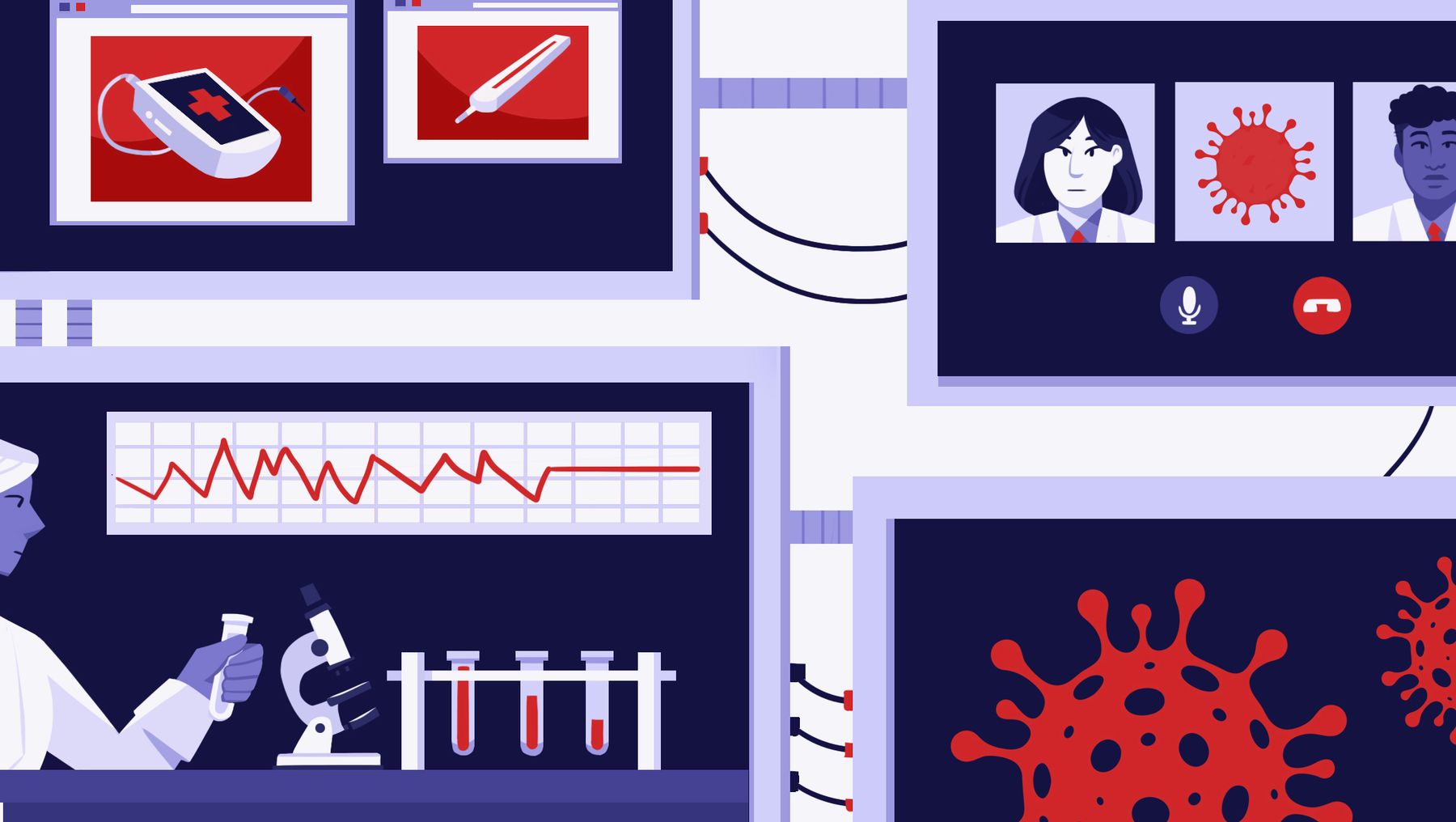 4 key trends for medtech in 2021
This story is part of a series exploring trends that will shape the industry in 2021. Read more here.
The calendar signals a new year but the medtech industry in 2021 will feel the lingering effects, both positive and negative, from the global coronavirus pandemic.
With the resurgence of the virus and emergence of new more contagious strains, COVID-19 will have major impacts on companies as much as 2020, albeit with the benefit of insights gleaned from the historic year and its unprecedented business environment.
Earlier this month, medtech and diagnostics companies gathered virtually to discuss 2021 prospects at J.P. Morgan's annual healthcare conference. Executives painted a mixed picture with the first half of the year looking bumpier than the second half.
Not surprisingly, many companies are not providing 2021 guidance due to the uncertainty caused by COVID-19. However, Craig-Hallum analyst Alex Nowak noted recently that most of the companies his firm covers have spoken optimistically about a full recovery taking hold in 2021.
"The recovery though will not be outsized year/year growth in 1Q21-3Q21, but instead consistent levels of quarter/quarter gains throughout the year," Nowak wrote in a research note.
Below are four big trends to watch in 2021 for the industry.
Elective procedures remain under pressure
Wall Street expects declines in elective care in the near term to continue as coronavirus cases keep rising. While the rollout of vaccines will likely help volumes, procedure comebacks are not expected until the second half of 2021, according to J.P. Morgan analysts.
To be sure, there will be winners and losers financially in this scenario.
"The ones affected were, to no surprise, those tied to elective procedures or were hospital-oriented," according to Nowak. "The real weakness was procedures that were not entirely critical (or critical and could be shifted outside the hospital), nor driven by higher income, such as spine surgery."
While Moody's expects procedure volumes will continue to recover in 2021 as patients who deferred procedures to treat chronic illnesses return to their healthcare providers, the investor service predicts demand will be volatile based on the spread of COVID-19.
Moody's expects transcatheter aortic valves, a key revenue driver, "will return to double-digit growth" for leaders such as Edwards Lifesciences and Medtronic.
Edwards on Wednesday reported that U.S. TAVR sales were actually down lower than Wall Street's expectations in the fourth quarter, and recent procedure slowdowns are expected to spill into 2021. However, CEO Michael Mussallem believes that the company will still hit its guidance of growing TAVR globally by 15-20% this year.
Medtronic warned earlier this month that due to the COVID-19 surge the company now expects overall business to be "roughly flat" this quarter, on an organic basis, instead of flat to slightly up.
CEO Geoff Martha noted that Medtronic didn't see much of a negative impact from the surge in coronavirus cases in October, November and even the first half of December. However, the medtech giant started to see "some impact" starting over the holidays.
Nonetheless, Martha called hospitals more experienced at handling the current COVID-19 surge while maintaining capacity for non-coronavirus patients. He cited pockets in the U.S. and Europe "where it has slowed down a bit" in recent weeks.
"It is more of an elective case pullback issue versus some other issue that's unique to Medtronic," Martha said. "Based on the feedback that we're getting from hospitals, we remain optimistic that this is going to be short lived."
However, executives from Baxter and Boston Scientific appear to be more concerned about the ability of some hospitals to manage the coronavirus stresses on their health systems as the number of cases continue to rise.
Baxter CFO Jay Saccaro at the recent J.P. Morgan conference described the current coronavirus surge as "volatile" and that Baxter will be taking "as much time as we possibly can to put together guidance."
Boston Scientific expects a rebound in procedure volumes this year. However, the company is not providing 2021 guidance at this time. CEO Mike Mahoney told analysts that he expects "some COVID impact" and "softness" in the first quarter "given the market environment." However, Mahoney said with the increasing rollout of COVID-19 vaccines in 2021 the situation will "improve each month."
Another banner year for COVID-19 testing
Demand for COVID-19 testing will continue to accelerate over the next year, with volumes remaining high until vaccines are widely distributed, according to Moody's.
"This will benefit companies that sell diagnostic tests, like Abbott Laboratories and Becton Dickinson, as well as life science companies that provide reagents used in these tests like Thermo Fisher Scientific," Moody's analysts wrote in their 2021 outlook for the global healthcare sector.
Despite the rollout of coronavirus vaccines, Abbott, Hologic and Quidel are ramping up their manufacturing capabilities in anticipation of another banner year for COVID-19 testing. CEOs from the diagnostic makers laid out their coronavirus test plans earlier this month at J.P. Morgan.
Hologic CEO Stephen MacMillan said the company has more than doubled its molecular diagnostic manufacturing capacity and is investing to more than triple capacity from 25 million tests in the fourth quarter of 2020 to 75 million tests per quarter by the second quarter of 2022.
"Everybody thought as soon as vaccines came, testing is going to go away. I think everybody is now seeing the realities of rolling out vaccines, of distribution chains. There is so much more complexity," MacMillan said. "This market, we believe, continues to grow and continues to be strong. And while it will certainly come down at some point, we believe it's going to be stronger for longer."
Abbott CEO Robert Ford said he expects high demand and volume for tests throughout 2021. The company is near completion of capacity expansion at U.S. manufacturing sites, which Ford estimated will enable production of tens of million more of its BinaxNOW COVID-19 antigen tests per month for sale to schools, workplaces, and pharmacies.
Quidel's QuickVue SARS test, a pregnancy test-style antigen diagnostic that like Abbott's BinaxNOW delivers results in minutes, is the focus of an at-home coronavirus testing effort.
"We are now anticipating a QuickVue SARS OTC at-home approval, which would not require a prescription," CEO Doug Bryant said at the conference. "We think it's the future of the company."
Early in 2021, Quidel hopes to have QuickVue tests available as OTC at home products. The company plans to manufacture as many of the diagnostics that it can this year.
Tuck-in acquisitions poised to take off
While M&A slowed last year due to the coronavirus pandemic, a report from consultancy EY predicts medtech dealmaking to jump in 2021 as companies are armed with a record high of roughly $500 billion in financial firepower. So far this year, the industry has seen a flurry of activity.
Hologic kicked the trend off in January with an acquisition of Somatex Medical for $64 million, and less than a week into 2021 added its second tuck-in with the acquisition of Biotheranostics for $230 million. PerkinElmer struck a deal to buy tuberculosis test provider Oxford Immunotec for $591 million and Thermo Fisher Scientific announced it will acquire privately-held molecular diagnostic maker Mesa Biotech for $450 million in cash.
The biggest deal over the first weeks of January was Steris' purchase of Cantel Medical in a cash and stock acquisition of approximately $4.6 billion, followed by Boston Scientific's announcement that it will purchase cardiac monitoring company Preventice Solutions in a $925 million deal and Philips' plans to acquire Capsule Technologies for a cash consideration of $635 million.
At Boston Scientific, strategic tuck-ins remain the company's "number one priority" when it comes to capital deployment with a focus on high-growth adjacent markets, CEO Mike Mahoney said earlier this month, noting $1.9 billion in cash on hand as of the end of last year. He also said the company will continue to be active with its venture capital portfolio "which has historically served as well as a nice pipeline" for M&A.
Medtronic's Martha said that the medtech giant plans to continue to look for M&A opportunities in 2021 after the company last year accelerated its momentum for tuck-in acquisitions, announcing seven such deals with a combined total consideration of over $1.6 billion.
Baxter CEO Joe Almeida said the company continues to "think very seriously" and to "evaluate" M&A this year. "I'm not in a position to tell you affirmatively that 2021 is the year of M&A," he remarked, though it is part of the medtech's playbook.
While some companies will look for tuck-in acquisitions, a handful of deals over $1 billion should be expected, according to John Babbitt, EY's MedTech leader for the Americas. In addition, EY sees several subsectors as top targets in 2021 for M&A activity including diagnostics, digital health, and remote patient monitoring.
Digital, remote tech adoption to grow
Last year, the need to create safe physical distances between healthcare workers and COVID-19 patients prompted medtechs to modify how their devices are used, including remote programming and monitoring. This year, executives say they will continue to adopt many of the features, which are becoming permanent offerings.
Martha said Medtronic will be increasingly incorporating the technology across its product portfolio.
"You are already seeing this with the advances we have made in remote monitoring and remote programming of many of our devices. We have added advanced capabilities to cardiac rhythm devices, diabetes insulin pumps, and ventilators, just to name a few," Martha said.
Abbott's Ford said his company is continuing to adopt remote care and digital health technologies as a result of the pandemic, which has accelerated the trend. However, Ford made the case at J.P. Morgan that the benefits of such tech goes beyond just COVID-19.
"It allows for much more proactive management. We see that in some of our portfolio. It can decrease the response time, especially if you've got like an urgent care situation. It can really bring that response time down lower, cuts up a lot of the logistical issues, the challenges of in-person, and then ultimately can lead to lower healthcare cost," Ford said.
He pointed to the FDA's approval in July of the Gallant implantable cardioverter defibrillator family of devices to help manage heart rhythm disorders, which offer Bluetooth technology and a new patient smartphone app for improved remote monitoring.
Boston Scientific in 2021 is also looking to build on "healthcare digital adoption" by accelerating and expanding its remote technology capabilities, according to CEO Mahoney.
The company has "leveraged COVID" to accelerate its digital investments and capabilities in such focus areas as clinical trials, customer engagement, mobile solutions, medical education and remote case support, Mahoney said.
Boston Scientific's initiatives include remote case support and virtual reality solutions, remote monitoring of clinical trials, as well as teleproctoring and virtual medical education.
"We see these platforms as a key catalyst for growth and structural and cost savings opportunities over time, and continue to expand our footprints and these digital capabilities," Mahoney added.
Article top image credit: Adeline Kon/MedTech Dive