Regulators from public health agencies, medical device manufacturers and expert physicians are gathering starting Wednesday at a two-day meeting to discuss how to address challenges with ethylene oxide, a carcinogenic gas used to sterilize more than 50% of medical devices.
The FDA advisory committee meeting comes nearly a year after former Illinois Attorney General Lisa Madigan and DuPage County State's Attorney Robert Berlin filed a lawsuit against Sterigenics alleging ethylene oxide emissions at its Willowbrook plant put public health at risk.
The big questions: What's the potential impact of reducing, eliminating or replacing ethylene oxide sterilization on the medical device supply chain, and what can FDA do to prevent shortages of critical devices used by hospitals and other healthcare providers across the country.
AdvaMed, the largest medical device trade association, maintains ethylene oxide is the only viable sterilization method for many medical devices such as heart valves, pacemakers, implantable defibrillators, syringes, breathing tubes and more due to its qualities. Currently, 20 billion to 25 billion devices are sterilized per year using ethylene oxide, according to the trade lobby.
FDA itself issued a warning last month that without adequate availability of the gas, a national shortage of devices will occur.  
"It's important to note at this time there are no readily available processes or facilities that can serve as viable alternatives to those that use ethylene oxide to sterilize these devices," former Acting Commissioner Ned Sharpless said in a statement. "In short: this method is critical to our health care system and to the continued availability of safe, effective and high-quality medical devices."
Why is this a big deal now?
In late September, Sterigenics announced it would no longer operate ethylene oxide sterilization facilities in Illinois due to an "unstable legislative and regulatory landscape."
The decision, which followed aggressive state legislation placing new requirements on commercial sterilizers was passed into law, came months after a seal order from the Illinois EPA forced ethylene oxide sterilization at Sterigenics' Willowbrook facility to halt in February.
In 2016, EPA published an updated Information on the Integrated Risk Information System determination that found ethylene oxide to be a carcinogenic gas.
The closure of the one facility created ripples throughout the supply chain, causing major medical device manufacturers such as Boston Scientific and Medtronic millions of dollars in losses as they scrambled to shift ethylene oxide sterilization to other facilities.
FDA warned temporary shortage of pediatric breathing tubes manufactured by Smiths Medical could result in April, foreshadowing the potential impact of broader disruptions to the medical device sterilization supply chain.
Where are the commercial sterilizers using ethylene oxide located?
In materials prepared for the advisory committee, FDA identified the top 30 ethylene oxide contract sterilizers across the United States.
According to the FDA's map, sizable ethylene oxide operations are historically located in Southern California, New York, Minnesota, Illinois, New Jersey, Georgia and multiple other states.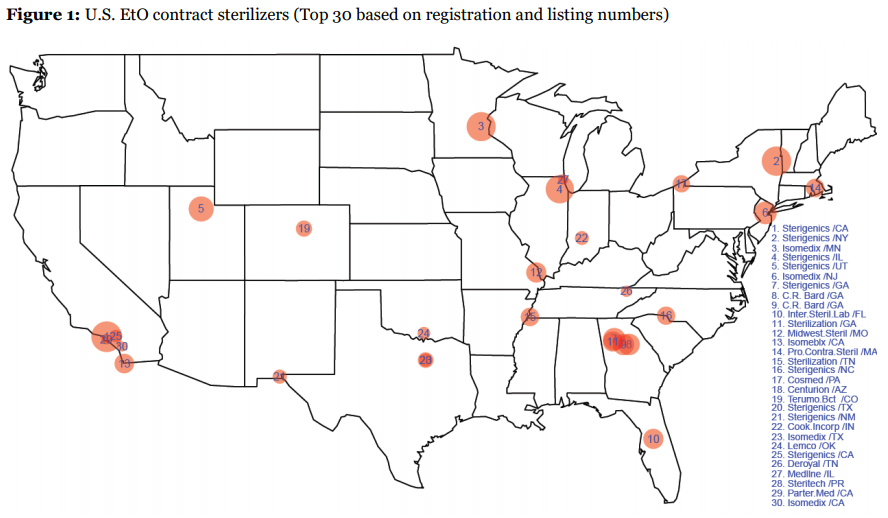 Why can't manufacturers just use other types of sterilization?
Currently, ethylene oxide is used to sterilize more than half of medical devices that need sterilization due to its chemical compatibility with many different device materials and ability to treat devices that are heat- or moisture-sensitive.
The second most common method to sterilize medical devices is radiation, such as gamma irradiation, X-ray radiation and electron beam radiation, which collectively represents about 45% of devices currently being sterilized.
The other common method currently is using pressurized steam, constituting about 5% of sterilization, according to FDA.
In July, FDA launched two innovation challenges to push manufacturers to reduce ethylene oxide emissions and to develop alternative medical device sterilization methods. But despite the effort the device industry is concerned a breakthrough method that could fully replace ethylene oxide is years away.
How have device manufacturers reacted?
Over the past year, medical device company CEOs have increasingly referenced headwinds related to disruptions in ethylene oxide sterilization on quarterly earnings calls.
Millions of dollars have already been spent reallocating devices to be sterilized at other facilities after the closure of Sterigenics' Willowbrook plant by Medtronic, Boston Scientific, Smiths Medical and more. And challenges to facilities in Georgia have also temporarily disrupted sterilization at a key BDs sterilization plant in Covington.
Device manufacturers have made efforts to convince the government to consider the impact a widespread disruption to the sterilization supply chain. In August, AdvaMed Chief Advocacy Officer Greg Crist warned the White House stringent national limitations on ethylene oxide could result in widespread medical device shortages.
AdvaMed and Sterigenics have spent sizeable amounts of resources lobbying Congress as well. This year, as of the third quarter, AdvaMed spent a portion of its $2,130,000 lobbying budget on issues pertaining to ethylene oxide.  
What questions will the FDA's advisory committee consider?
FDA's General Hospital and Personal Use Devices Panel members are tasked with three major categories of questions related to the gas: the impact to the greater medical device ecosystem, how to optimize ethylene oxide by reducing its use and emissions, and what potential alternatives exist.
Specifically, FDA asks:
If ethylene oxide sterilization is reduced, eliminated or replaced, how can the impact to healthcare providers be minimized?
What can FDA do to prevent device shortages if reduced sterilization capabilities come to pass?
How can changes to how ethylene oxide sterilization methods reduce emissions while maintaining effective sterilization?
Are there new ways of validating ethylene oxide cycles that can potentially reduce use?
Should a less rigorous sterility assurance level be considered?
Is there an existing large-scale industrial sterilization method that can replace ethylene oxide in the short or long term?
Are there alternative methods being developed that can replace ethylene oxide, but maintain material compatibility and scalability?
How can FDA help incentivize adoption of ethylene oxide reduction or replacement strategies?
What types of medical devices difficult to sterilize without ethylene oxide could potentially be sterilized using other methods?
 Are there other recommendations the panel has to reduce ethylene oxide risk, while preventing medical device shortages?
"The questions are straightforward and are ones that we hope are successfully answered because they are so vital to the continued work our members want to do not only in the manufacturing space, but in the sterilization space," Crist said. "We want to see FDA seek further information, further clarification."
What actions are likely to come next?
The federal EPA is working on development of new regulations on commercial sterilizers that are likely going to require facilities upgrade emissions abatement technologies.
In September, the agency announced it planned to release Advance Notice of Proposed Rulemaking and request for information outlining what final regulations eventually may look like in October. The agency has not been punctual meeting its self-set timeline, but the notice of forthcoming regulations should be released in the coming weeks.
AdvaMed said it was hopeful interest from the FDA, EPA and Centers for Disease Control and Prevention at the advisory committee meeting bodes well for cross-governmental coordination at the federal level.
"You want policy coordination, what we hope is that there's a cascade effect where this expertise trickles down to the states," Crist said. "States look to federal regulations for guidance and direction where they may lack the subject matter expertise."
Where can I watch the advisory committee meeting?
The FDA is planning to webcast day one of the meeting here. Day two will be webcast here.