May 03, 2022
Press Contacts
James Salter
(408) 687-5781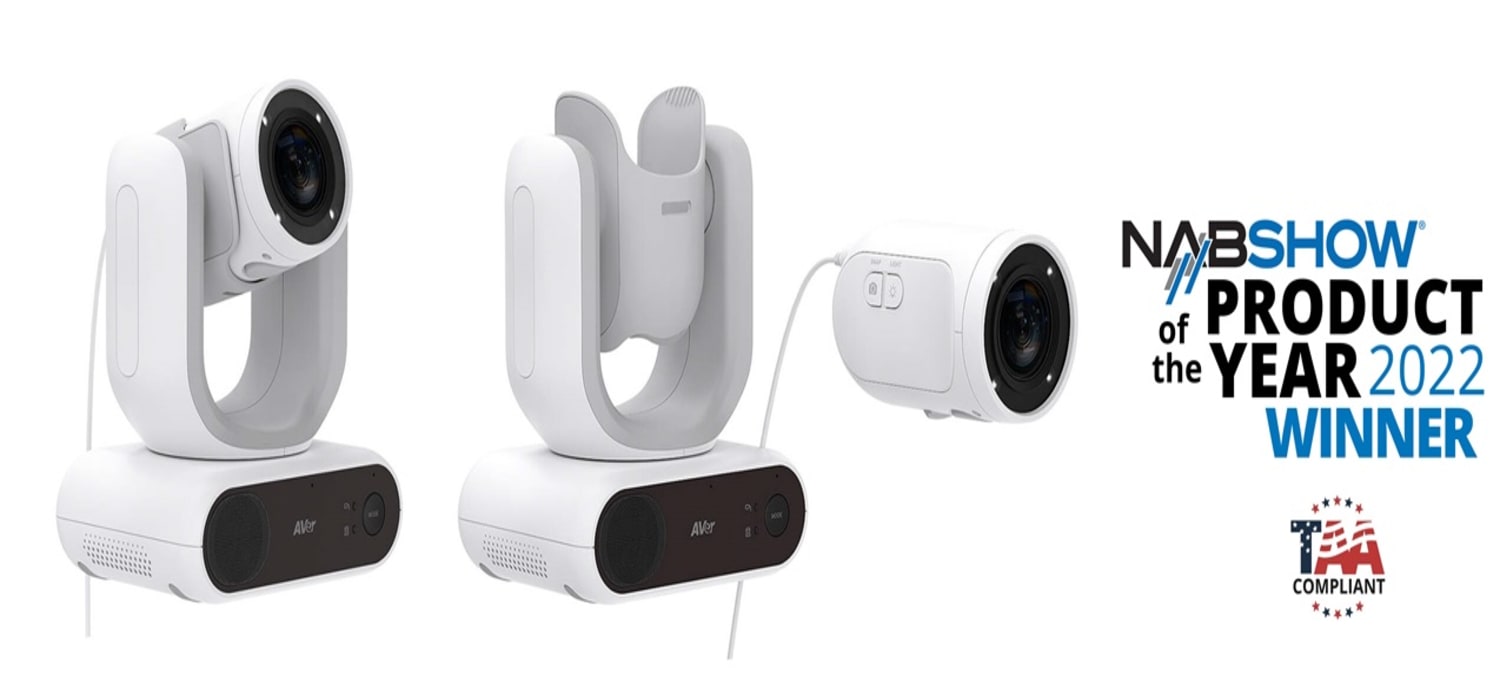 FREMONT, Calif. —
AVer Wins 2022 NAB Product of the Year Award MD330 Series Medical Grade PTZ Honored in Camera Category Fremont, CA - May 3, 2022 AVer Information Inc. USA, the award-winning provider of video collaboration and education technology solutions today announced that its MD330 Series Medical Grade PTZ is a camera winner in the 2022 NAB Show Product of the Year Awards. This official awards program recognizes the most significant and promising new products and technologies showcased by corporate partners of NAB Show.
The MD330U Series Medical Grade PTZ camera is a highly versatile solution for telemedicine and patient monitoring. The camera features the world's first detachable 8MP handheld camera head and an embedded audio system with speakerphone. The wide angle pan-tilt degree, 30X optical zoom and 4K output resolution allow healthcare workers to properly capture patient images at different angles. The MD330U Series includes Noise Reduction to automatically lower background sounds for clear communications. There are two sku options that available, an infrared version that supports night view for patient monitoring and an LED version for illumination needs. All MD330U Series cameras are medical grade EN60601-1* and TAA/NDAA Compliant.
NAB Show Product of the Year Award Winners were selected by a panel of industry experts in 15 categories and announced in a live awards ceremony at NAB Show on April 26. To be eligible for an award, nominated products had to come from companies exhibiting at the 2022 NAB Show and are delivered within the 2022 calendar year.
"The 2022 NAB Show Product of the Year Awards honor innovative breakthroughs that will change the way the media and entertainment industry creates, connects and capitalizes content," said NAB Executive Vice President of Global Connections and Events Chris Brown. "We congratulate AVer on this award in recognition of the MD330 Series Medical Grade PTZ Camera and its potential to help storytellers meet the challenges of today and tomorrow."
"We are honored to receive this award from the NAB Show," said Andy Teoh, Director of Product, Pro AV and OEM Business, AVer Information Inc., Americas. "AVer continues to innovate with our Pro AV lineup and our new MD330 camera provides a truly versatile tool for the healthcare industry."
###
About
Founded in 2008, AVer is an award-winning provider of education technology and video collaboration camera solutions that improve productivity and enrich learning. From accelerating learning in the classroom to increasing competitive advantage for businesses, AVer solutions leverage the power of technology to help people connect with one another to achieve great things. Our product portfolio includes Professional Grade Artificial Intelligence Enabled Auto Tracking Cameras, Zoom and Microsoft Teams Certified Enterprise Grade USB Cameras, Document Cameras and Mobile Device Charging Solutions. We strive to provide industry leading service and support that exceeds our customer's expectations. We are also deeply committed to our community, the environment and employ stringent green processes in all we do. Learn more at averusa.com and follow us @AVerInformation.